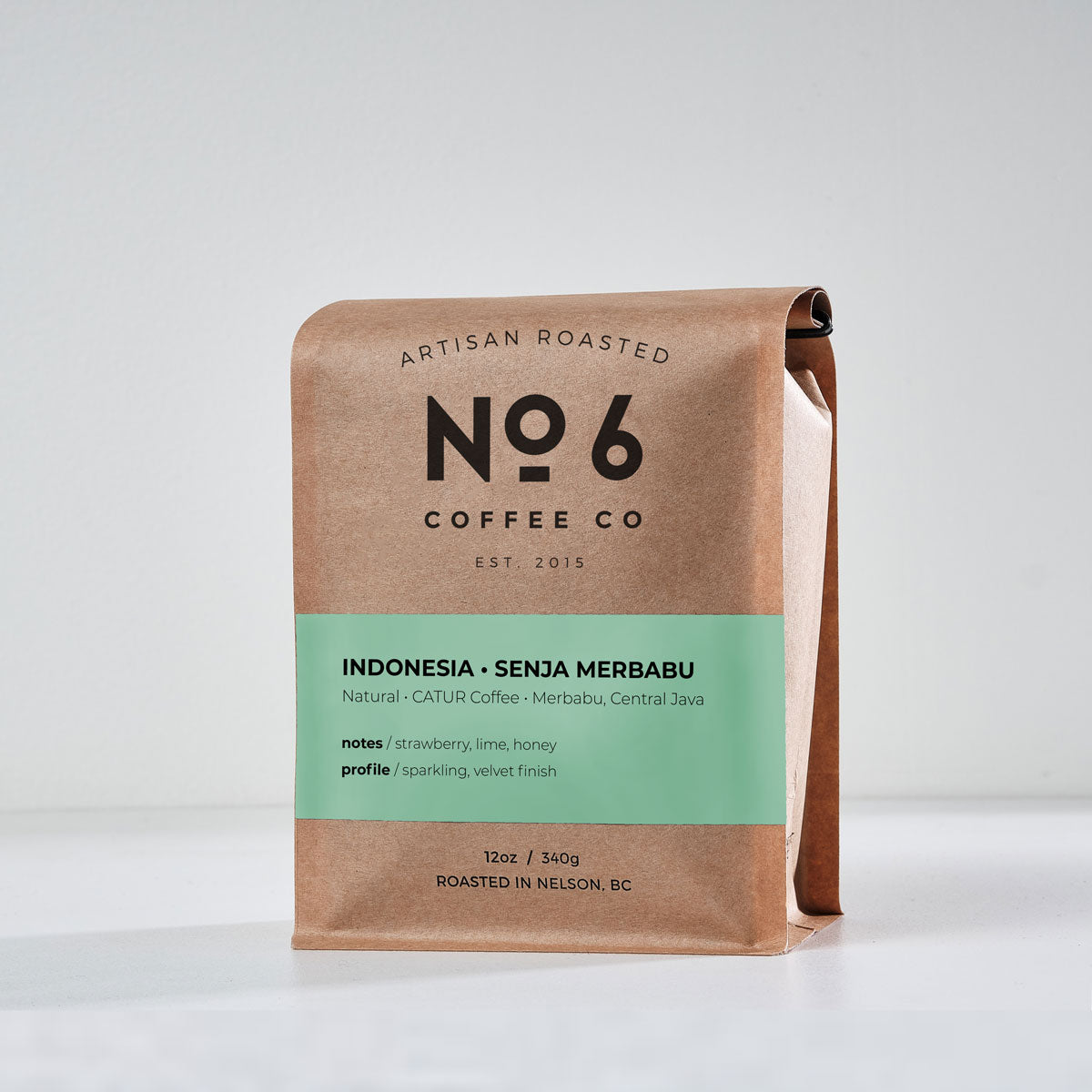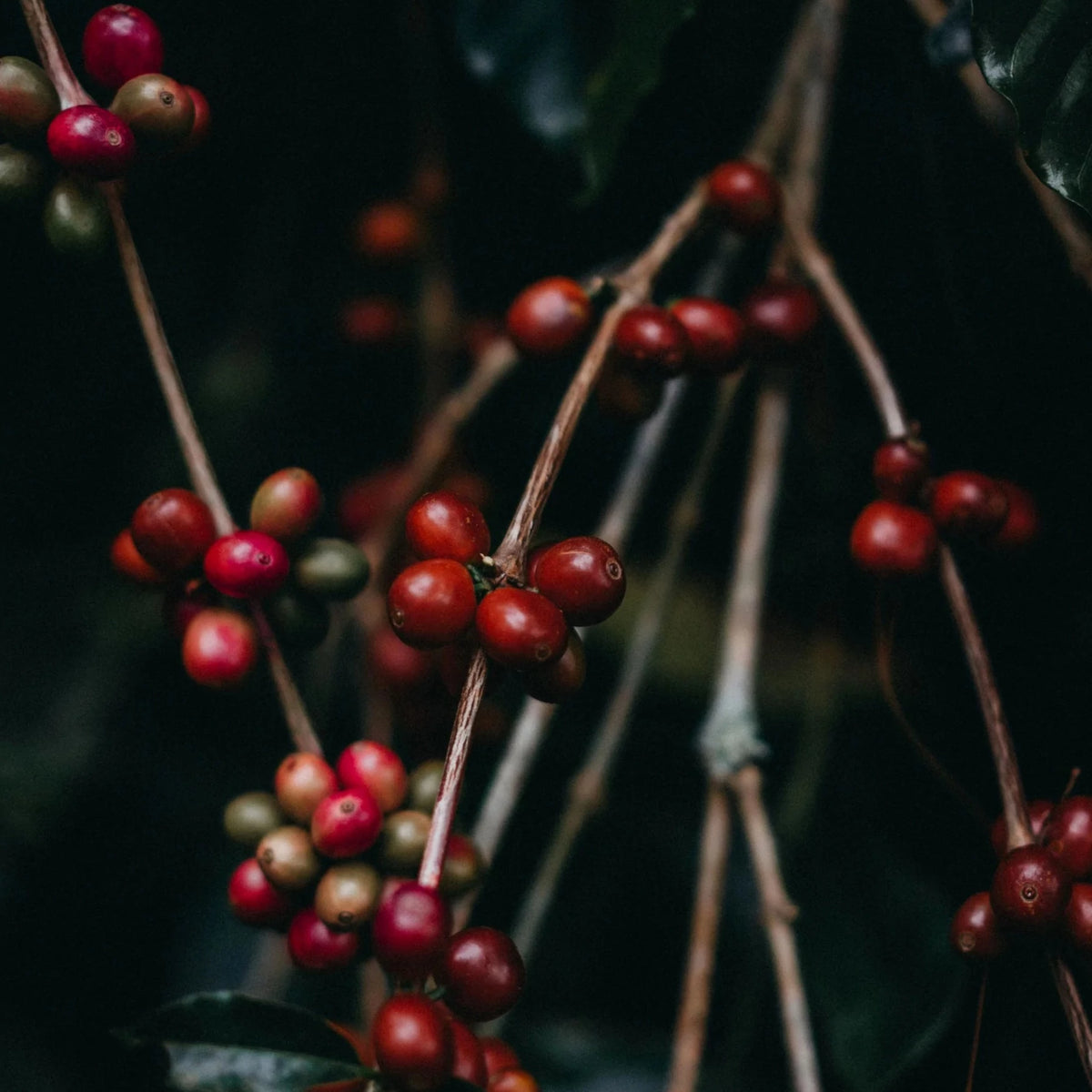 Indonesia - Senja Merbabu
winey, baking spice, velvety
Regular price
$19.00
$0.00
Unit price
per
| | |
| --- | --- |
| notes | strawberry, lime, honey |
| profile | sparkling, velvet finish |
| varietal | Kartika |
| process | natural, dried as honey |
| altitude | 1100 masl. |
| region | Tosoro Village, Merbabu, Central Java |
| farm | small holder farmers |
| producer | CATUR Coffee |
| importer | Forward Coffee |
CATUR Coffee is a collaborative effort to improve the landscape of coffee production with Indonesia. Operated by So So Good Coffee Company and currently six different 'processors' throughout the archipelago, CATUR is utilizing different strains of yeast to derive flavour within the cup. There are four different flavour categories being created throughout the six processing facilities, BUMI, SENJA, PUCUK and KAMALA.
"SENJA means sunset in Sanskirt. Just like the different colour and stages of the sunset, this taste profile is signified by a combination of deeper and complex vibrancy with an accompanying fruit sweetness and rounded body. Senja utilizes blending techniques as well as bacteria and fungi based inoculants." - Mikael Jasin, Founder.
BRIGHT JAVA in Central Java started in 2016, after Troy and Aswan realized that small holder farmers could be better served in the international coffee markets and could utilize support. They are located in Salatiga, a small town in Central Java, where they source coffee from neighbouring regions. CATUR came across Bright Java for the first time at a cupping session in an Indonesian export show in 2019. There were about 40 coffees on the table, and their coffees were a stand out amongst the others. After getting in touch with Troy, the collaborated on the 2020 harvest and have had a strong relationship since. Together their processed coffees from two regions, Tosoro Village in Merbabu, where this lot has originated, as well as Banyuwangi, nearby.
Through this collaboration, CATUR and Bright Java have processed 15,000 kg of cherry in the Central Java area, producing around 3000 kg of green bean, throughout different profiles. This directly impacted 211 families in the local area.
This coffee shows a wide array of flavour profiles and was featured in Season 6 of the Forward Lottery. Predominantly orange, red and yellow in colour palette, this lot offers nectarine, apricot, strawberry, raspberry, notes of mango, passionfruit, and other subtle fruit tones.  There's a winey quality to the acidity, reminding us of lambrusco, sparkling wine. Complexity shows up through spiced tones, such as cinnamon, cardamom and nutmeg, giving some of those classic Indonesian flavours. Winey and velvety are words to describe the texture and experience. 
Biotrē™ 2.0 has outer layers are made from wood pulp and cellulose from wood pulp. In Biotrē™ 2.0 with Natural Kraft paper on the outside, the outer layers make up approximately 60% of the material by weight and have been shown to break down into healthy compost in 12 weeks when tested using conditions from a test method called ASTM D6868. The interior, sealable layer in Biotrē™ 2.0 is made of a plant-based, renewable resource, sugar cane. This is a durable i.e., non-biodegradable, layer made from renewable plant sources. The greenhouse gas CO2 is absorbed and reduced during the plant's growth.
Biotrē™ takes a comprehensive approach to being environmentally friendly.
Waste Reduction – Biotrē™ can reduce the amount of packaging that ends up in long term waste storage like a landfill.

Biotrē™ 2.0 – with the outer layers breaking down naturally in a composting environment in a relatively short period of time, packages can be processed in a home compost to convert 60% of material (Biotrē™ 2.0 are not recommended for municipal or industrial composting). The inner layer can be removed from compost if found and disposed of with normal trash. 60% less material goes to the landfill.

Climate Change – The plant-based components that go into Biotrē™ (wood pulp, sugar cane, and corn) absorb the greenhouse gas CO2 through natural plant respiration prior to being used to make Biotrē™ packaging. Absorbing and reducing the amount of CO2 in the atmosphere helps stem the tide of global climate change.
Natural Resources - Biotrē™ preserves our natural resources by reducing the use of finite fossil fuel and mineral resources and promoting the use of cyclical, sustainable sources. While most barrier packaging is made from almost exclusively petroleum-based plastics or aluminum foil, Biotre® film layers consist of anywhere for 60% to nearly 100% renewable plants.
Weekly ordering deadline is Tuesday at 9am. Orders placed before this time are roasted, packaged and shipped by Wednesday. All orders received after this time are subject to shipping the following week depending on overflow.
Our current shipping rates are as follows:
Local Delivery Rates within 2km
$5.00 for orders between $0-$20
$2.50 for orders between $20-$40
FREE for orders over $40
Canadian Shipping (with tracking)
Standard rates for orders between $0-$36
$10 for orders between $36-$75
FREE for orders over $75
US Shipping (with tracking)
Standard rates for orders between $0-$100
FREE for orders over $100
---
choosing a selection results in a full page refresh