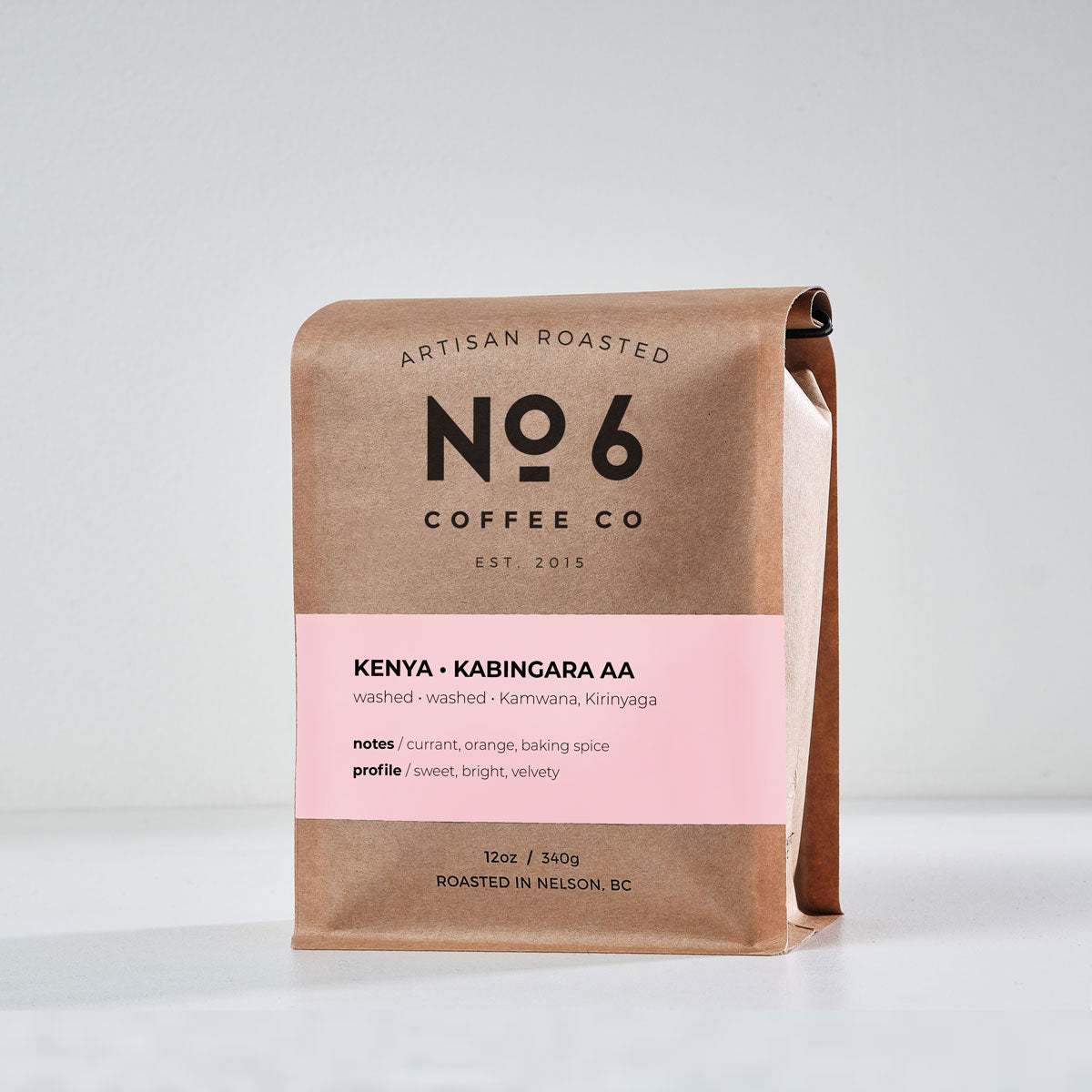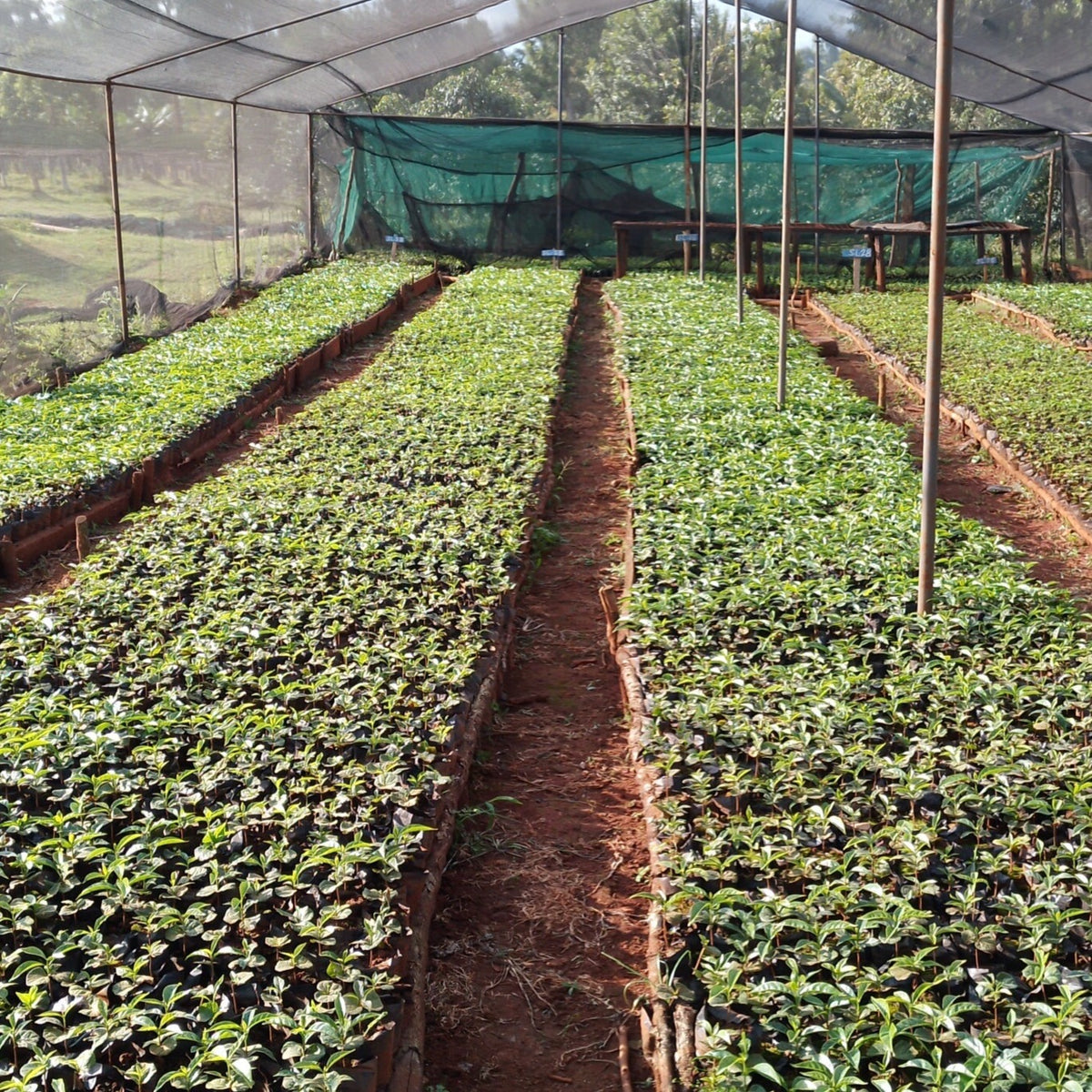 Kenya - Kabingara AA
sweet, botanical, heavy body
Regular price
$19.00
$0.00
Unit price
per
| | |
| --- | --- |
| notes | currant, orange, baking spice |
| profile | sweet, bright, velvety |
| varietal | Batian, Ruiru 11, SL28, SL34 |
| process | washed |
| altitude | 1750 masl |
| region | Kamwana, Kirinyaga |
| farm | 800 small farms |
| producer | Kabingara Factory |
| importer | Mountain Coffee |
Farmers cultivate on small coffee farms of approximately 250 to 350 trees at altitudes of 1,600 to 1,800+ meters above sea level and deliver their cherry to Kabingara factory. The high altitudes provide the warm days and cool nights that help nurture sweet, dense cherry. The washing station is owned and operated by Karithathi Farmers' Cooperative Society (FCS).
Farmers delivering to Kabingara washing station cultivate primarily SL28, SL34, Batian and Ruiru 11 in small coffee gardens that are, on average, smaller than 1 hectare. 'SL' varieties are cultivars originally released by Scott Agricultural Laboratories (SAL) in the 1930s and 1940s. They soon became the go-to trees for many growers in Kenya due to their deep root structure, which allows them to maximize scarce water resources and flourish even without irrigation. They are cultivated with a serious eye towards sustainability and Good Agricultural Practices, with minimal environmental impact where possible.
Batian is a relatively new variety introduced by the Kenya Coffee Research Institute (CRI) in 2010. Batian is named after the highest peak on Mt. Kenya and is resistant to both CBD and CLR. The variety has the added benefit of early maturity – cropping after only two years. Similar to Batian, Ruiru 11 is a new variety known for its disease resistance and high yields. It also starts yielding fruit after just 2 years.
Farmers receive technical agronomic support from Sucafina Kenya. They also receive soil sampling from Kahawa Bora. The soil sampling program addresses a key step in farmer profitability. Lower input costs mean lower overall production costs and higher profits. More targeted input application also translates into healthier trees and higher quality cherry.
Prior to Kahawa Bora's soil sampling program, farmers had little access to soil analysis methods. Fertilizer, when applied, would be formulated according to a generalized recipe rather than one uniquely suited to the farm's exact needs. Now, with better access to information through technology and agronomical assistance, farmers can apply the right fertilizer recipe at the right time, improving yields and cherry quality.
Smallholders selectively handpick ripe, red cherry and deliver it to Kabingara Factory. At intake, the Cherry Clerk oversees meticulous visual sorting and floating and accepts only dense, ripe cherry.
After intake, cherry is pulped and fermented. Following fermentation, coffee is washed in clean water and laid to dry on raised beds. Workers rake parchment frequently to ensure even drying. They cover drying parchment during the hottest time of day, to maintain slow, even drying and at night, to shelter parchment from moisture. It takes an average of 7 to 14 days for parchment to dry.
Biotrē™ 2.0 has outer layers are made from wood pulp and cellulose from wood pulp. In Biotrē™ 2.0 with Natural Kraft paper on the outside, the outer layers make up approximately 60% of the material by weight and have been shown to break down into healthy compost in 12 weeks when tested using conditions from a test method called ASTM D6868. The interior, sealable layer in Biotrē™ 2.0 is made of a plant-based, renewable resource, sugar cane. This is a durable i.e., non-biodegradable, layer made from renewable plant sources. The greenhouse gas CO2 is absorbed and reduced during the plant's growth.
Biotrē™ takes a comprehensive approach to being environmentally friendly.
Waste Reduction – Biotrē™ can reduce the amount of packaging that ends up in long term waste storage like a landfill.

Biotrē™ 2.0 – with the outer layers breaking down naturally in a composting environment in a relatively short period of time, packages can be processed in a home compost to convert 60% of material (Biotrē™ 2.0 are not recommended for municipal or industrial composting). The inner layer can be removed from compost if found and disposed of with normal trash. 60% less material goes to the landfill.

Climate Change – The plant-based components that go into Biotrē™ (wood pulp, sugar cane, and corn) absorb the greenhouse gas CO2 through natural plant respiration prior to being used to make Biotrē™ packaging. Absorbing and reducing the amount of CO2 in the atmosphere helps stem the tide of global climate change.
Natural Resources - Biotrē™ preserves our natural resources by reducing the use of finite fossil fuel and mineral resources and promoting the use of cyclical, sustainable sources. While most barrier packaging is made from almost exclusively petroleum-based plastics or aluminum foil, Biotre® film layers consist of anywhere for 60% to nearly 100% renewable plants.
Weekly ordering deadline is Tuesday at 9am. Orders placed before this time are roasted, packaged and shipped by Wednesday. All orders received after this time are subject to shipping the following week depending on overflow.
Our current shipping rates are as follows:
Local Delivery Rates within 2km
$5.00 for orders between $0-$20
$2.50 for orders between $20-$40
FREE for orders over $40
Canadian Shipping (with tracking)
Standard rates for orders between $0-$36
$10 for orders between $36-$75
FREE for orders over $75
US Shipping (with tracking)
Standard rates for orders between $0-$100
FREE for orders over $100
---
choosing a selection results in a full page refresh