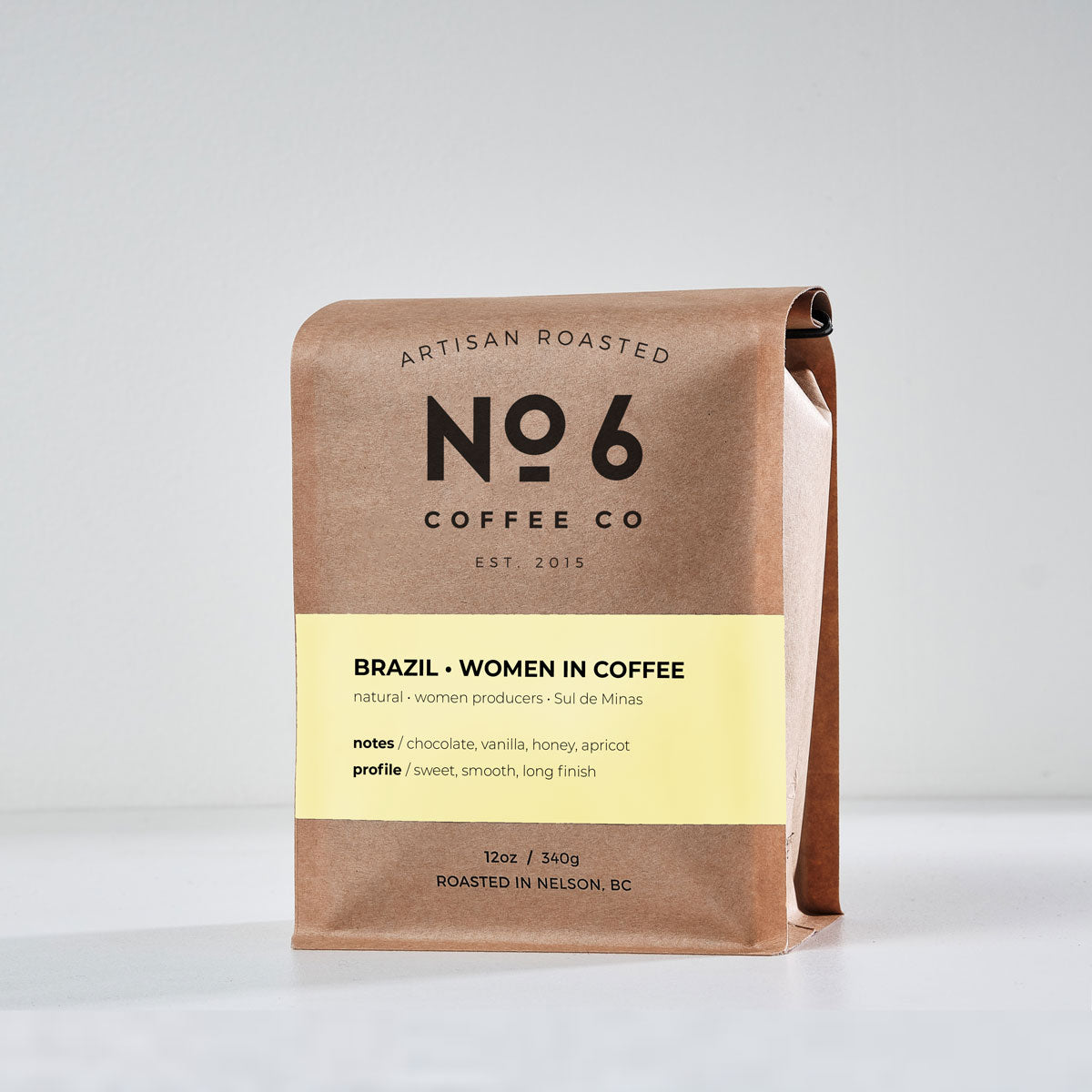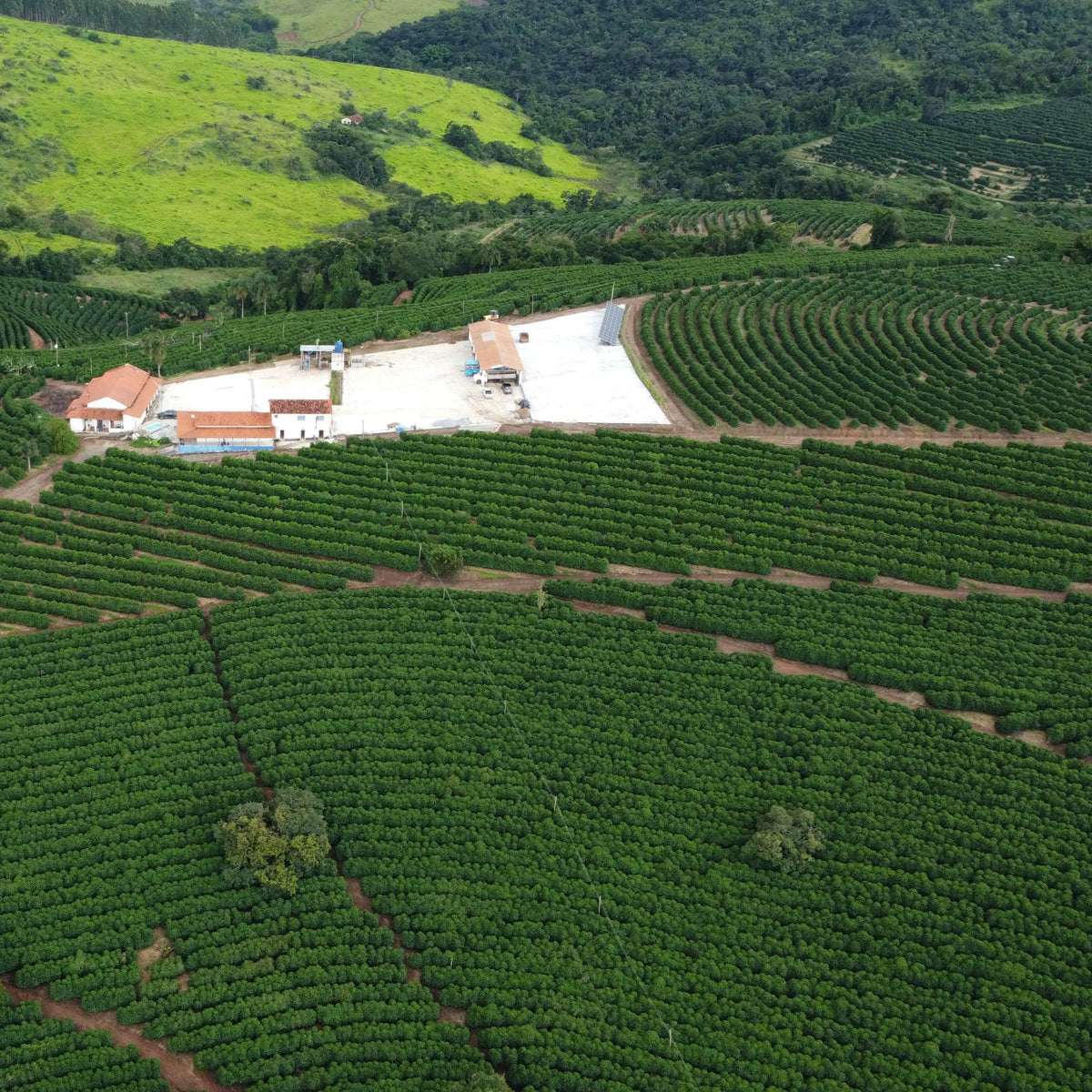 Brazil - Women in Coffee
sweet, smooth, delicate
Regular price
$16.00
$0.00
Unit price
per
| | |
| --- | --- |
| notes | chocolate, vanilla, honey, apricot |
| profile | sweet, smooth, long finish |
| varietal | Red Catuaí, Topazio, Mundo Novo, Ruby, Red Icatu, Yellow Catuai, Paraiso |
| process | natural |
| altitude | 900-1200 masl. |
| region | Sul de Minas |
| farm | Fazenda Cetec, Fazenda Bugio, Fazenda Rancho Novo, Fazenda Juca Pinto |
| producer | Viviane Garcia, Clara Milagres, Fabiola Carvalho, Dalyse Castanheira |
| importer | Mountain Coffee |
The Women In Coffee project started in 2019 when sisters Danielle and Priscila Fonseca began to combine women producers that were focused on producing specialty coffee but sometimes didn't have enough volume to commercialize on their own.
They started experimenting with flavor profiles and post harvesting that would allow them to have a fruity blend but with nice chocolate sweetness, a good base but with exciting flavors.
They also noticed that many times the women are the ones that specialize in taking care of the specialty production of the farm, so they wanted to highlight that as well.
Now each year the Women in Coffee blend highlights different producers, and different combinations of regions and flavors.
Contributing to this lot are Viviane Garcia, Clara Milagres, Fabiola Carvalho and Dalyse Castanheira. 
Fabiola Carvalho
Since she was a child, Fabiola had been accompanying her father, a renowned coffee researcher from Epamig and Embrapa, two organizations dedicated to the study of Brazilian coffee, to coffee farms and research presentations. With her husband, they eventually decided to purchase their own farm and start planting coffee, following the methods her father had taught her over the years. With the crops now in production, Fabiola applies all the knowledge she has acquired and successfully produces exceptional specialty coffees. Growing up in a family of coffee enthusiasts, Fabiola strives to enhance her skills every day and fully devotes herself to her passion for coffee cultivation.
Dalyse Castanheira
Founded by Delson Castanheira, this farm is situated at an elevation of 1040 meters above sea level, where coffee is cultivated with care and attention. The farm's coffee growing practices are guided by the principles of economic, social, and environmental sustainability. The mountainous terrain and many manually managed plots contribute to the generation of income in the area. The farm's coffee is from a range of cultivars, including Topazio, Acaia Mundo Novo, Catuai, Catucai, Icatu, and Rubi. The coffee is processed using both natural and pulped natural methods, and influenced by the soil and microclimate of the region. The farm is dedicated to coffee production, trying to maintain the productive area, however, growing in productivity and quality, with constant investments in production technology, post-harvest processing and team training.
Viviane Garcia
My parents moved to Bugio in 1962. The property was part of my grandfather's farm, who was already a farmer.
I was born in 1963 and I was the first daughter. I lived at the farm until I was 8 years old. My first year of school I had to go by horse to the school that was in the District of Córrego do Ouro. After a few years I went to live in Três Pontas with my mother and 2 brothers, that was when my youngest sister Vanessa was born, today my partner in the coffee business.
I left to study in Belo Horizonte, and I returned to participate in the management of the farm in 2012 when my father got sick and went to live in Três Pontas.
He passed away in 2017 and I became an inventory manager, took courses and lectures to understand more about the coffee business and during the pandemic we decided to renovate the house and started several new processes and certifications.
Everything was possible thanks to the presence of the manager who had been at the farm since forever. We planted new cultivars such as Arara and Topázio. We started to better understand the world of coffee and improve quality of life for employees. We repaired and renewed the houses for the employees, and worked on bettering the farm structures.
Then Flowins and Mountain Coffee became our partners and we started the process of reducing the use of herbicides and pesticides. We have already planted 4 hectares of forest to recover 3 springs at the farm.
We increased the permanent preservation area by 6 hectares. Apart from the other 3 springs.
Post harvest gets easier year by year since we started working with Flowins. The coffee analyzes were fundamental for us to improve management and discover new possibilities in the selling of the bags.
Biotrē™ 2.0 has outer layers are made from wood pulp and cellulose from wood pulp. In Biotrē™ 2.0 with Natural Kraft paper on the outside, the outer layers make up approximately 60% of the material by weight and have been shown to break down into healthy compost in 12 weeks when tested using conditions from a test method called ASTM D6868. The interior, sealable layer in Biotrē™ 2.0 is made of a plant-based, renewable resource, sugar cane. This is a durable i.e., non-biodegradable, layer made from renewable plant sources. The greenhouse gas CO2 is absorbed and reduced during the plant's growth.
Biotrē™ takes a comprehensive approach to being environmentally friendly.
Waste Reduction – Biotrē™ can reduce the amount of packaging that ends up in long term waste storage like a landfill.

Biotrē™ 2.0 – with the outer layers breaking down naturally in a composting environment in a relatively short period of time, packages can be processed in a home compost to convert 60% of material (Biotrē™ 2.0 are not recommended for municipal or industrial composting). The inner layer can be removed from compost if found and disposed of with normal trash. 60% less material goes to the landfill.

Climate Change – The plant-based components that go into Biotrē™ (wood pulp, sugar cane, and corn) absorb the greenhouse gas CO2 through natural plant respiration prior to being used to make Biotrē™ packaging. Absorbing and reducing the amount of CO2 in the atmosphere helps stem the tide of global climate change.
Natural Resources - Biotrē™ preserves our natural resources by reducing the use of finite fossil fuel and mineral resources and promoting the use of cyclical, sustainable sources. While most barrier packaging is made from almost exclusively petroleum-based plastics or aluminum foil, Biotre® film layers consist of anywhere for 60% to nearly 100% renewable plants.
Weekly ordering deadline is Tuesday at 9am. Orders placed before this time are roasted, packaged and shipped by Wednesday. All orders received after this time are subject to shipping the following week depending on overflow.
Our current shipping rates are as follows:
Local Delivery Rates within 2km
$5.00 for orders between $0-$20
$2.50 for orders between $20-$40
FREE for orders over $40
Canadian Shipping (with tracking)
Standard rates for orders between $0-$36
$10 for orders between $36-$75
FREE for orders over $75
US Shipping (with tracking)
Standard rates for orders between $0-$100
FREE for orders over $100
---
choosing a selection results in a full page refresh