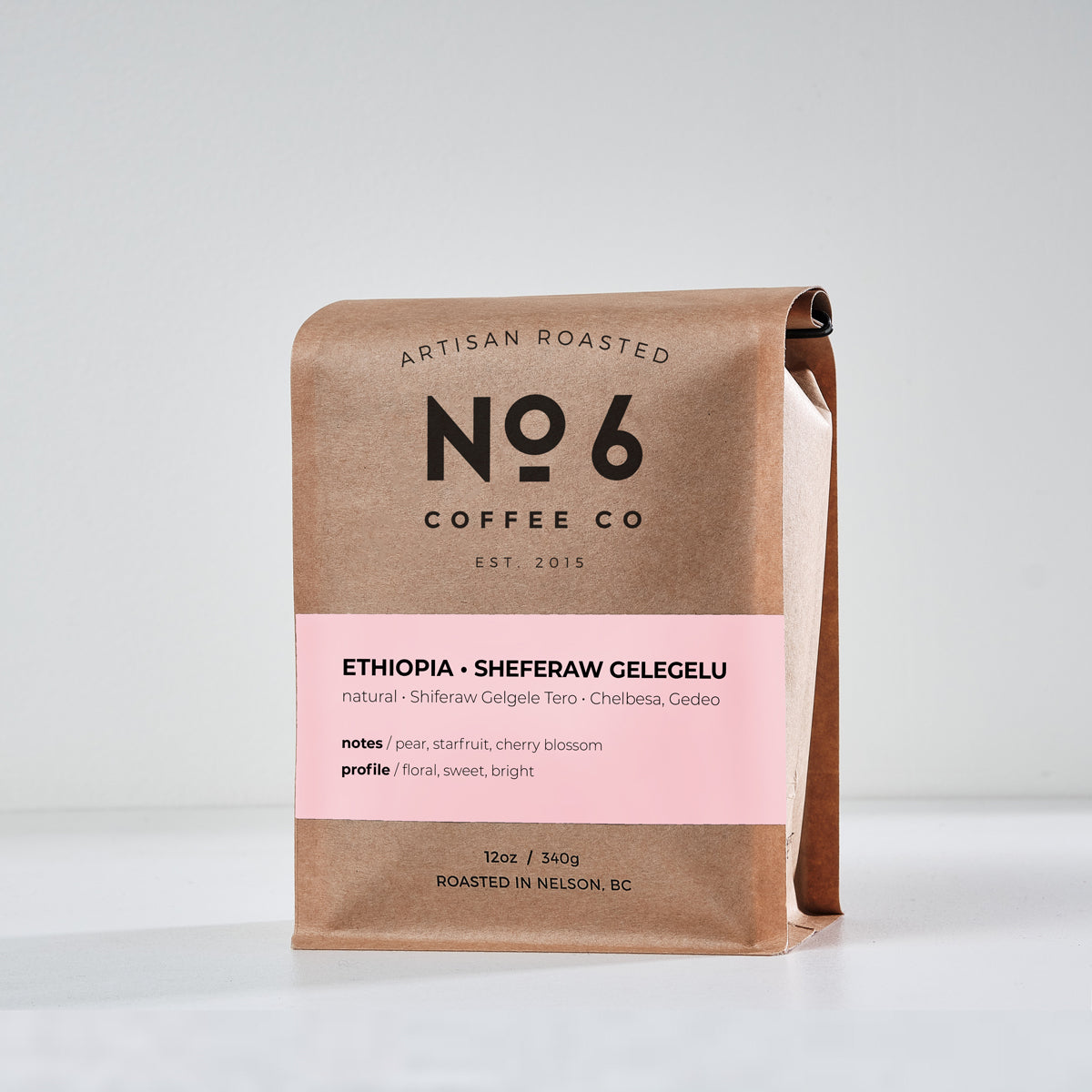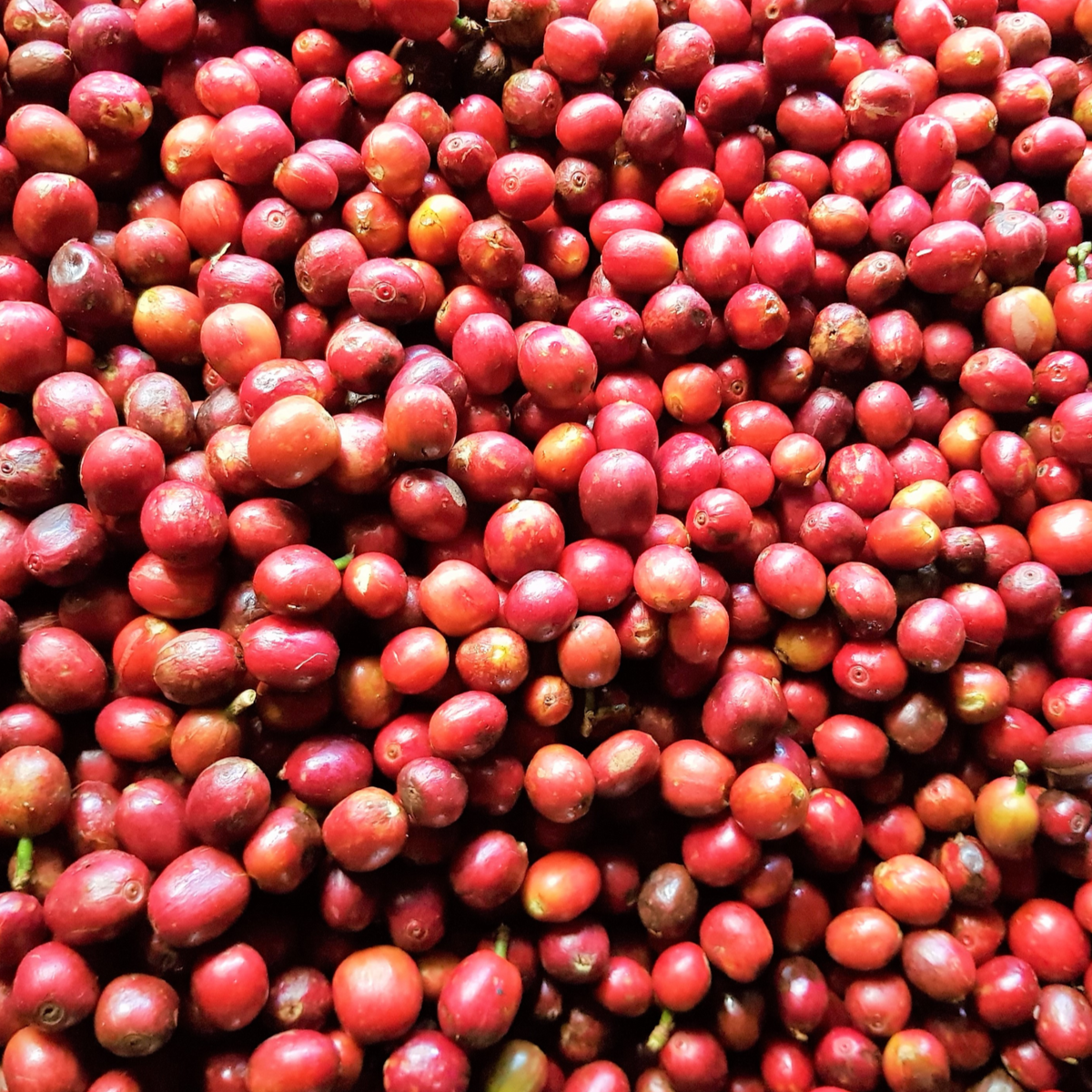 Ethiopia - Sheferaw Gelegelu
floral, bright, sweet
Regular price
$19.00
$0.00
Unit price
per
| | |
| --- | --- |
| notes | pear, starfruit, cherry blossom |
| profile | floral, sweet, clean finish |
| varietal | Heirloom cultivars |
| process | natural |
| altitude | 2150 masl |
| region | Gedeb, Gedeo |
| farm | single farm |
| producer | Shiferaw Gelgele Tero |
| certification | organic |
| importer | Roya Coffee |
Shiferaw Gelgele Tero grows coffee on his 3.8 hectare farm in the Chelbesa community, located in the south-eastern corner of the coveted Gedeo Zone - the narrow section of plateau dense with savvy farmers whose coffee is known as "Yirgacheffe". This more remote corner of the Gedeo plateau centers its commerce around the trading city of Gedeb, a bustling outpost that links commerce between Gedeo and Guji zones, and, it must be mentioned, produces some of the most beautifully perfumed and candy-like natural coffees one can find in all of Ethiopia. The communities surrounding Gedeb reach some of the highest growing elevations for coffee in the world, and are a truly enchanting part of the long drive into Guji. In addition to coffee Shiferaw grows common subsistence and local market crops like beans, cabbage, and enset, a fruit-less relative of the banana tree whose inner pulp is packed into cakes and fermented underground, and eaten as a staple starch year round.
Coffee is Shiferaw's main source of income that he uses to support his family. Ripe cherries for this natural processed coffee were carefully hand sorted and floated to remove less dense coffee beans before drying on raised beds for 15-21 days. Beds are carefully constructed to ensure proper air circulation and temperature control, for optimal drying. During processing, cherries are often covered during the afternoons—a very characteristic technique of southern Gedeo, where the midday sun is searingly intense. Once the cherries finished drying to the necessary 11 percent moisture, they are transported to Addis Ababa, the capital of Ethiopia, to be milled and prepared for export through the Yirgacheffe Coffee Farmers Cooperative Union, the umbrella organization that oversees Shiferaw's local Chelbesa cooperative.
Biotrē™ 2.0 has outer layers are made from wood pulp and cellulose from wood pulp. In Biotrē™ 2.0 with Natural Kraft paper on the outside, the outer layers make up approximately 60% of the material by weight and have been shown to break down into healthy compost in 12 weeks when tested using conditions from a test method called ASTM D6868. The interior, sealable layer in Biotrē™ 2.0 is made of a plant-based, renewable resource, sugar cane. This is a durable i.e., non-biodegradable, layer made from renewable plant sources. The greenhouse gas CO2 is absorbed and reduced during the plant's growth.
Biotrē™ takes a comprehensive approach to being environmentally friendly.
Waste Reduction – Biotrē™ can reduce the amount of packaging that ends up in long term waste storage like a landfill.

Biotrē™ 2.0 – with the outer layers breaking down naturally in a composting environment in a relatively short period of time, packages can be processed in a home compost to convert 60% of material (Biotrē™ 2.0 are not recommended for municipal or industrial composting). The inner layer can be removed from compost if found and disposed of with normal trash. 60% less material goes to the landfill.

Climate Change – The plant-based components that go into Biotrē™ (wood pulp, sugar cane, and corn) absorb the greenhouse gas CO2 through natural plant respiration prior to being used to make Biotrē™ packaging. Absorbing and reducing the amount of CO2 in the atmosphere helps stem the tide of global climate change.
Natural Resources - Biotrē™ preserves our natural resources by reducing the use of finite fossil fuel and mineral resources and promoting the use of cyclical, sustainable sources. While most barrier packaging is made from almost exclusively petroleum-based plastics or aluminum foil, Biotre® film layers consist of anywhere for 60% to nearly 100% renewable plants.
Weekly ordering deadline is Tuesday at 9am. Orders placed before this time are roasted, packaged and shipped by Wednesday. All orders received after this time are subject to shipping the following week depending on overflow.
Our current shipping rates are as follows:
Local Delivery Rates within 2km
$5.00 for orders between $0-$20
$2.50 for orders between $20-$40
FREE for orders over $40
Canadian Shipping (with tracking)
Standard rates for orders between $0-$36
$10 for orders between $36-$75
FREE for orders over $75
US Shipping (with tracking)
Standard rates for orders between $0-$100
FREE for orders over $100
---
choosing a selection results in a full page refresh