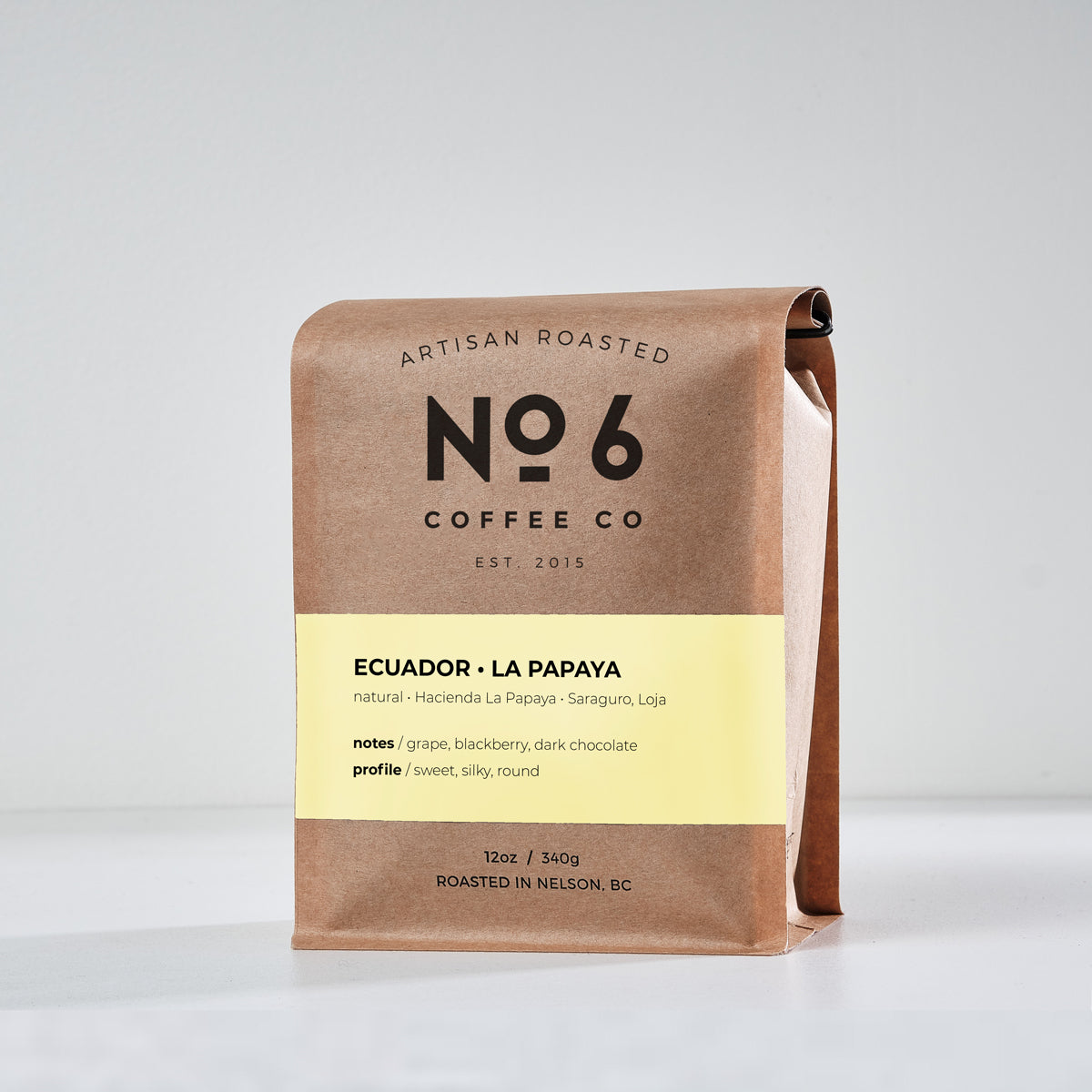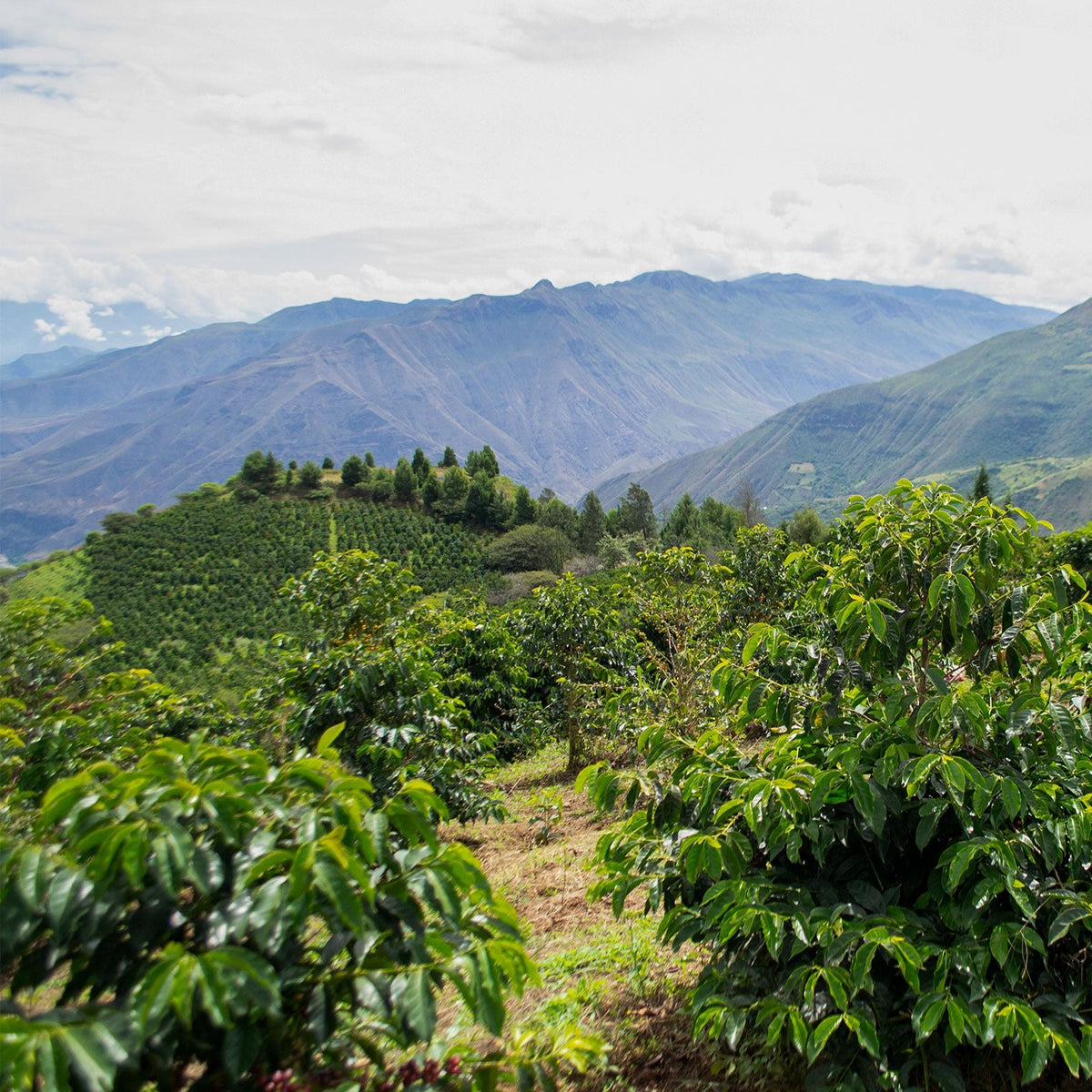 Ecuador - La Papaya Typica
sweet, juicy, velvety
Regular price
$35.00
$0.00
Unit price
per
| | |
| --- | --- |
| notes | concord grape, blackberry, dark chocolate |
| profile | sweet, silky, round |
| varietal | Typica Mejorado |
| process | natural |
| altitude | 2000 masl. |
| region | Saraguro, Loja |
| farm | Hacienda La Papaya |
| producer | Juan Peña |
| importer | Forward Coffee |
Hacienda La Papaya is owned and operated by Juan Peña, one of Ecuador's most famous specialty coffee producers. He has been recognized for many top producer awards in Ecuador and throughout the World. His coffee has also been utilized in many Barista Competitions.
Juan grows many varieties of coffee at Hacienda La Papaya, most notably Typica, Sidra, Gesha, with others also in production. He is always actively engaged with processing experiments and tries to find the next best practice or method to make improvements to the coffee he produces. With the support of Segundo Cartuche, the team leader for wet processing and coffee drying, Hacienda La Papaya is able to introduce scientific, refined practices and measurements into their production.
Juan is an active member of his community, allowing neighbours to utilize his facilities, such as the nursery and the micro-mill, to help the overall sector of La Papaya grow and develop. Segundo Cartuche is an example of this, with his own plot of land and his own production, via the support of Hacienda La Papaya.
The coffees produced at Hacienda La Papaya are the result of a meticulous integral process, beginning with the genetics of the seeds in the nursery and knowing the mother plants. Every year the farm experiments with various controlled fermentation and drying, creating some really exquisite flavors in the cup.
Juan Carlos Velez's farm has a 250-year history. The farm originally belonged to the General Ignacio Torres, who fought alongside Simon Bolivar for Cuenca's Independence. He got married to a Cuencana lady who was Juan Carlos' ancestral grandmother from an unknown number of generations back.
Currently on their land, they have multiple varieties of plants such as flowers,
fruits and of course, coffee. Juan Carlos' parents started planting coffee 20 years
ago using simple methods without a lot of technology. After his father passed away, Juan Carlos took over the business and has improved the farm since he already had agricultural experience. More specifically, Juan Carlos is also owner of the largest rose farm in southern Ecuador that exports over 10 million roses annually.
Juan Carlos, 60 years old, is a civil engineer with a Business Administration
Master's Degree. He was a member of the Chamber of flower production, and
currently a member of Expoflores. Despite these responsibilities and other
activities as well, his family continues to work with coffee because of their joy and
passion for it.
The high quality of their coffee is the result of great care given to their land, especially since the land was always fixed for agricultural purposes. On the farm, different types of fruits have been planted such as guavas and oranges. They use a drip irrigation system which helps give the plant the most favorable environment for growing. This type of irrigation will also help prevent any type of fungus from growing on the leaves or the fruit.
The farm sits at an altitude of 1700 MASL. The closest town is La Union, 5 kilometers away. Bordering the farm are other properties, including La Finca Proyecta to the North and West, 4 other farms to the South, and Chantaco Canyon to the east. The farm also has the perfect weather at the perfect time. Like the town of La Papaya, this area receives 8 months of sun from May to December. It's perfect because coffee plants need limited water or less than other plants. The rainy season goes from January to April. Being close to the equator is another advantage for the farm. Plants receive 12 hours of sun a day the 12 months of the year, which provides extraordinary conditions for better quality coffee. The daily temperature range is also important for growing coffee. The temperature could reach 35°C during the day and at night it could reach 13°C. The temperature during the day is very important because it affects how the coffee plant produces its own sugars and affects its overall growth as well.
Juan Carlos met Juan Peña in 2014 through the flower business. They developed a good friendship, and they've been working together innovating with coffee. Through their friendship, Forward is able to purchase Juan Carlos coffee thanks to CafExporto, the exporting arm of Juan Peña and Hacienda La Papaya.
Biotrē™ 2.0 has outer layers are made from wood pulp and cellulose from wood pulp. In Biotrē™ 2.0 with Natural Kraft paper on the outside, the outer layers make up approximately 60% of the material by weight and have been shown to break down into healthy compost in 12 weeks when tested using conditions from a test method called ASTM D6868. The interior, sealable layer in Biotrē™ 2.0 is made of a plant-based, renewable resource, sugar cane. This is a durable i.e., non-biodegradable, layer made from renewable plant sources. The greenhouse gas CO2 is absorbed and reduced during the plant's growth.
Biotrē™ takes a comprehensive approach to being environmentally friendly.
Waste Reduction – Biotrē™ can reduce the amount of packaging that ends up in long term waste storage like a landfill.

Biotrē™ 2.0 – with the outer layers breaking down naturally in a composting environment in a relatively short period of time, packages can be processed in a home compost to convert 60% of material (Biotrē™ 2.0 are not recommended for municipal or industrial composting). The inner layer can be removed from compost if found and disposed of with normal trash. 60% less material goes to the landfill.

Climate Change – The plant-based components that go into Biotrē™ (wood pulp, sugar cane, and corn) absorb the greenhouse gas CO2 through natural plant respiration prior to being used to make Biotrē™ packaging. Absorbing and reducing the amount of CO2 in the atmosphere helps stem the tide of global climate change.
Natural Resources - Biotrē™ preserves our natural resources by reducing the use of finite fossil fuel and mineral resources and promoting the use of cyclical, sustainable sources. While most barrier packaging is made from almost exclusively petroleum-based plastics or aluminum foil, Biotre® film layers consist of anywhere for 60% to nearly 100% renewable plants.
Weekly ordering deadline is Tuesday at 9am. Orders placed before this time are roasted, packaged and shipped by Wednesday. All orders received after this time are subject to shipping the following week depending on overflow.
Our current shipping rates are as follows:
Local Delivery Rates within 2km
$5.00 for orders between $0-$20
$2.50 for orders between $20-$40
FREE for orders over $40
Canadian Shipping (with tracking)
Standard rates for orders between $0-$36
$10 for orders between $36-$75
FREE for orders over $75
US Shipping (with tracking)
Standard rates for orders between $0-$100
FREE for orders over $100
---
choosing a selection results in a full page refresh